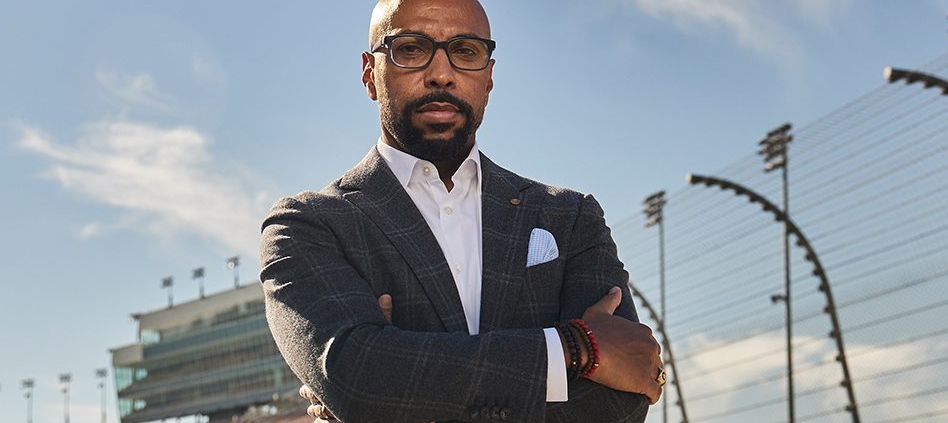 Taking on a new position at a new job can always be tough. But Nashville Superspeedway President Erik Moses wasn't just taking a new job, he was taking on the responsibility of leading the revitalization of a speedway in one of the hottest markets in the country.
"I have had the privilege in my career to be involved with several opportunities to remake, rebuild, and launch organizations from the ground up. [The Nashville Superspeedway] was no exception," Moses shares in an interview with The Sports Credential. "The task I took on and agreed to when accepting this role in August of 2020 was really to come in and take a dormant facility–with one full time staffer–and build out a team of very talented sports and entertainment executives and others. [My job is] to make the Nashville Superspeedway one of the best homes to racing on the NASCAR circuit and a robust live events venue for all of all of Middle Tennessee, and frankly, the region."
Prior to coming to Nashville, Moses, who earned a law degree from Duke University, was the founding president of the D.C. Defenders, the XFL team in the nation's capital. Moses was an important member of Washington DC's sports industry even before taking on the XFL job.
He was the Senior Vice President at Events DC for more than a decade, where he served as Washington D.C.'s "sports commissioner" and chief advocate for sports, entertainment and live event activity in the city. He helped develop major partnerships with the local professional, college and high school teams, as well as the NCAA, the NHL, MLB, AT&T, Lyft and Pepsi.
In 2019, the Washington Business Journal named him to its 2019 Power 100 list and, that same year, he was recognized by NBC Sports Washington as a DC Sports Power Player. His journey to Nashville and the world of NASCAR began with him being on the board of directors of the Military Bowl Foundation, which Dover Motorsports COO Mike Tatoian also served on.
To prepare for the inaugural XFL season in 2019, Moses headed up to Dover Motorspeedway for its NASCAR race to see if he could gain some inspiration from the fan experience.
"I have always heard that NASCAR was great at sponsor activation and fan engagement," Moses explains. "I decided, I'm gonna go up to this race–my first NASCAR race–and I'm going to see exactly how NASCAR does it and hopefully steal some good ideas that we can use in the XFL, in D.C. in particular."
Sadly, due to the pandemic, the XFL ceased operations in the summer of 2020. However, a new door opened for Moses as the Nashville Superspeedway announced its re-opening as a fully operational track with the return of NASCAR.
"I got an email from Mike [Tatoian] saying, 'Erik, I have an idea I want to discuss with you. Give me a call.' I called and he said, 'I've got a crazy idea, but don't say anything until I've tried to try to explain it all.'" Moses continues, "He went on to tell me the history of the Nashville Superspeedway and that they have finally been able to secure a Cup Series sanction from NASCAR. That sanctioning agreement was an unprecedented four-year deal. With the reopening of the superspeedway after being closed for 10 years, they needed a leader who could come in and build a team, lead that effort and position the superspeedway for long term success."
In less than a year, Moses, who become the first African-American to become a track president, built a team and got the superspeedway up, running, and ready for the massive return of NASCAR to Nashville. The track saw three full days of practices, qualification and races, as well as concerts and fan zone activities.
To further display its first-year success, Nashville Superspeedway was awarded The Track Award at the 2021 NASCAR Drive for Diversity Awards for its collaborations and partnerships with the TSU Alumni Association, the National Museum of African American Music (NMAAM), Slim and Husky's Pizza Beeria, and Uncle Nearest Premium Whiskey.
Though year one was a massive success, that doesn't mean that there isn't work to be done.
"We're one race year down, but really into year two of our of our reborn operations," Moses says. "We're still in our nascency. We're still basically a startup, establishing our staff, building our team, and making certain that we're getting the right folks on the team to be able to accomplish the really great things that we can and will accomplish in this market."
This year, there will be updates to the fan zone experiences. The speedway is also addressing the traffic and parking issues that affected last year's event.
This June, fans won't be charged for parking which will help with the flow of traffic to move as many cars into the lots as fast as possible.
"I think one of the pain points we had last year was our ingress and egress for those who are driving," Moses recalls. "This year, one of our key capital projects we're working on is adding another almost 3,000 parking spaces crossing McCrary Road, which is the main entrance into the property. That will allow us to load people from that main artery on both sides, which is going to mean it's going to move faster. It's going to get people in, out, and on their way back home after the events are over."
This year's Ally 400 will be another party out in Lebanon as Grammy award-winning group Brothers Osborne have been announced as this year's pre-race concert, and multi-Platinum artist Kane Brown will serve as the grand marshal for the Cup Series race.
As the speedway continues to grow, Moses wants music and festivals to find homes at the Nashville Superspeedway, as well as offer the Wilson County communities great entertainment options. Nashville's surrounding counties are growing as Davidson County becomes more expensive and densely populated. As Moses explains, having a first-class event space in Wilson County is something that will appeal to those new residents.
"I wanted to send a clear signal to the community that you should expect events from us that are going to be family friendly. There are going to be non-motorsports events that are going to take full advantage of our location, the property size, and our capabilities to do things outside of racing." He sums, "There'll be music, there'll be lifestyle events, and there'll be family events.
"What we're committed to is being a live event venue that benefits the region, but also benefits the people who are moving out of downtown Nashville and Davidson County to find bigger houses, less expensive housing options, etc. [We want to give] them a viable and competitive option for entertainment that doesn't involve getting on the highway and driving into downtown. I truly believe that there's a real opportunity there."

Latest posts by Steven Boero
(see all)
https://sportscredential.com/wp-content/uploads/2022/06/Erik-Moses-NSS-e1655243292465.jpeg
500
948
Steven Boero
https://sportscredential.com/wp-content/uploads/2020/12/TSC_Logo_Horizontal_WHITE-copy-for-website.png
Steven Boero
2022-06-15 11:48:34
2022-06-15 11:48:34
Erik Moses Looks To Make Nashville Superspeedway Bigger & Better In Its Second Year [Interview]