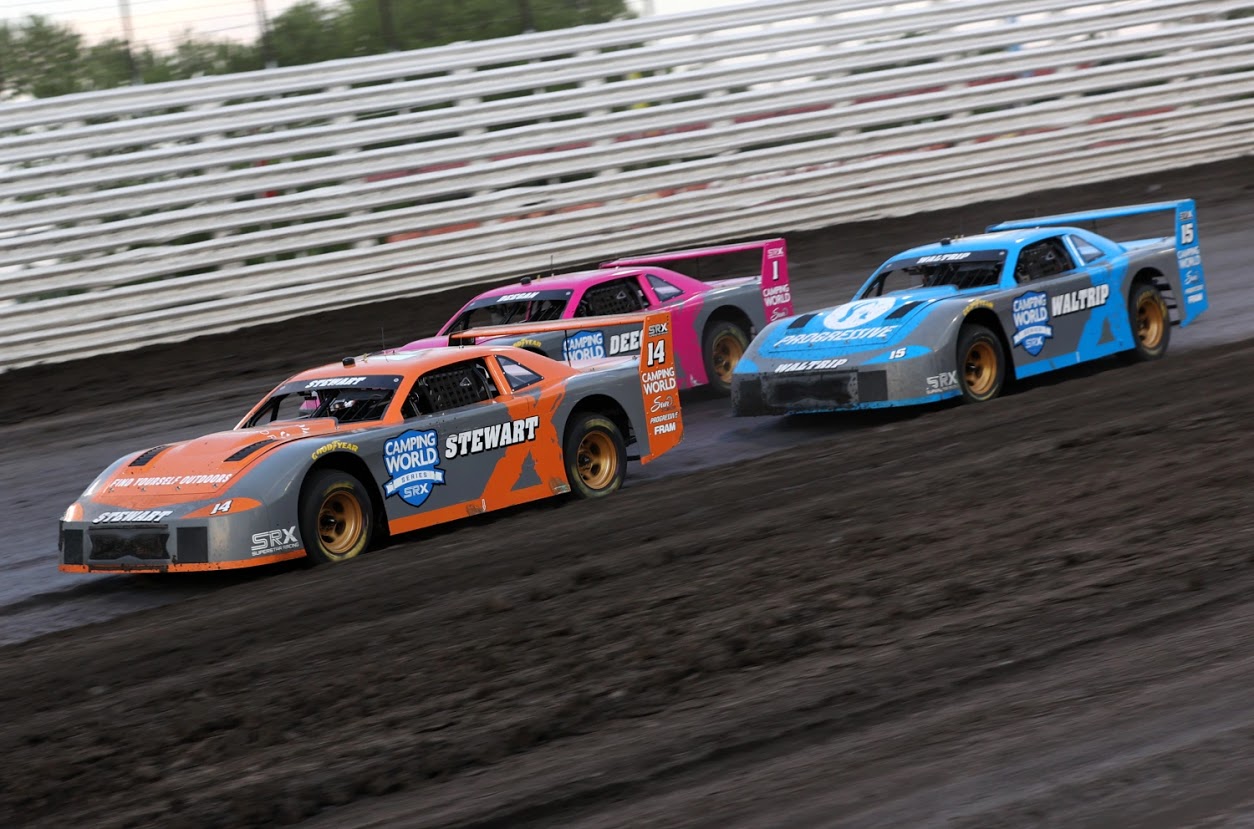 Just one month after NASCAR made its long-awaited return to Nashville, the new Camping World SRX Series will be racing at the Nashville Fairgrounds Speedway on Saturday, June 17, with legendary drivers like Tony Stewart, Bill Elliott and his son, 2020 NASCAR Cup champion Chase Elliott behind the wheel.
Saturday's Rackley Roofing Master of the Pros 150 will be the final race of the six race series where a champion will be crowned. There will be two rounds of qualifying, first at 2:15 p.m. and then at 5 p.m., with the race beginning at 7 p.m. on the 5/8ths mile track which is famous for exciting short-track racing.
The series was co-founded by Stewart who has been known as one of the most versatile drivers in NASCAR history, as he's raced so many different forms of motorsports. The group will be racing late model cars designed specifically for this series.
"I'm obviously excited about it," says Stewart. "You don't start a six-race season worrying about point standings by any means, but last week was the first week I started paying attention to it."
Stewart currently has two wins in the series and finished third last week at Slinger, Wisconsin behind winner and IndyCar driver Marco Andretti, grandson of legendary driver Mario Andretti. If Stewart wins the Nashville race, he will be crowned SRX champion, adding to his long list of accolades and championships.
For an extra treat, Chase Elliott was named a driver for the Fairgrounds race last week and will race, head-to-head against his father and 1988 NASCAR champion Bill Elliott for only the second time ever. Chase, who won a Super Late Model race back in 2013 at the Fairgrounds speedway, won't be entering the track completely blind.
"I've never raced these cars before, but I'm just excited getting back to Nashville," shares Chase. "There were really two pieces of the puzzle for me that made me want to do it and really made it a no-brainer. One, you don't have an opportunity to race with your dad all the time, much less on a platform like this and in a series like this. Number two, to support the Fairgrounds, that's been a major topic of conversation in the NASCAR community over the last couple of years and I feel like this is a time where if someone has an opportunity to support that race track, support the cause, and show the folks of the area what we can bring as a racing community to Nashville, I feel like we have to take that opportunity."
Along with Stewart, both Elliotts, and Andretti, the race will feature superstar drivers Tony Kanaan, Willy T. Ribbs, Paul Tracy, Bobby Labonte, Ernie Francis Jr., Michael Waltrip and four-time Indy500 winner Hélio Castroneves. Truck series driver Hailie Deegan will also be joining the field of drivers after racing at the Knoxville Raceway where she finished second.
"We're growing the racing community and the racing community to me is one as a whole," says Chase. "Racing is racing and I think the more we can bring these type of discipline drivers together, the better off we are. SRX has done a great job at offering opportunities to guys from completely different backgrounds to come together as one."
Fans can still pickup tickets for the race online for lower-level seating.

Latest posts by Steven Boero
(see all)
https://sportscredential.com/wp-content/uploads/2021/07/SRX.jpg
829
1254
Steven Boero
https://sportscredential.com/wp-content/uploads/2020/12/TSC_Logo_Horizontal_WHITE-copy-for-website.png
Steven Boero
2021-07-16 10:27:47
2021-07-16 10:27:47
SRX Race Preview: Chase & Bill Elliott, Tony Stewart, More To Face Off At Fairgrounds