The Belmont men's basketball team has dropped its 2021-22 schedule which includes games against LSU, Saint Louis, and Drake University. The release also includes the full Ohio Valley Conference schedule.
After going 26-4 last season and earning its 20th conference championship since 2006–third-most nationally over that span behind only Kansas and Gonzaga–Belmont has grown into one of the best programs among all Division I basketball.
"Scheduling has become increasingly difficult for many reasons, but we're thrilled with how this year's non-conference schedule came together," says Head Coach Casey Alexander. "We were able to create some balance between home, road, and neutral site games, as well as provide opportunities for our fans to support us whether we're playing in the Curb (Event Center) or elsewhere."
Belmont opens the season Nov. 9 at Mid-American Conference champion Ohio. From there, Belmont welcomes Evansville to the Curb Event Center on Nov. 13 for the home opener. Next, the Bruins host Southern Conference powerhouse Furman. One of the strongest mid-major programs in the nation the last few seasons, the Paladins return 12 letterwinners from a 16-9 team that played Alabama and Cincinnati to the wire.
Belmont will then travel to Kennesaw State, who they beat last season 64-53, on Nov. 19. Belmont heads to historic Pete Maravich Assembly Center to face LSU on Nov. 22 where Alexander will face LSU Head Coach and Nashville native Will Wade for the first time in seven seasons.
The Bruins will then head to Orlando, Florida, to play in the highly anticipated ESPN Invitational over the Thanksgiving Weekend. They will start off by playing Drake on Nov. 25 and then either Alabama or Iona. If Belmont wins its second game, they will play in the tournament final on Nov. 28.
"Our Thanksgiving week at LSU and the ESPN Events Invitational will be a great test against a number of Top 50 teams," Alexander says. "We have some familiar opponents, but new series with Ohio, Furman and Chattanooga will be exciting and challenging. Overall, the slate is full of programs expecting to participate in March Madness next spring."
This year's Battle of the Boulevard will be played once at the Curb Event Center on Dec. 2, as opposed to the regular two games in past seasons. The Belmont and Lipscomb rivalry goes all the way to the 1980's when both teams competed for NAIA Championships. The Bruins have won 16 of the last 18 meetings, including an 81-71 victory last season.
Belmont will head to Birmingham to play at Samford on Dec. 5. Leading into mid-December, Belmont heads out west to face Atlantic 10 Conference contender Saint Louis. Two seasons ago, the Bruins and Billikens played a highly-competitive game, with the Bruins leading in the final three minutes before falling on the game's final possession.
Finishing up the non-conference part of the season, Belmont hosts Chattanooga on Dec. 15 and Bethel on Dec. 18. Belmont welcomes back athletic hall of famer and Bethel head coach Steve Drabyn ('04) to the Curb Event Center. Drabyn served on Alexander's Lipscomb staff from 2011-19.
The Bruins will kick-off OVC play on the road by facing SIUE on Dec. 30 and Eastern Illinois on Jan. 1. Belmont's conference home opener will be against Southeast Missouri. The Bruins will play each OVC team twice this season, once in Nashville and once away. Four of Belmont's final six conference games will be at the Curb Event Center, including Feb. 26 vs. Tennessee State.
"I'm looking forward to the double round-robin conference schedule this year," says Alexander. "Our players embrace the expectations and championship standard at Belmont."
Belmont is 130-24 in Ohio Valley Conference games since joining the league.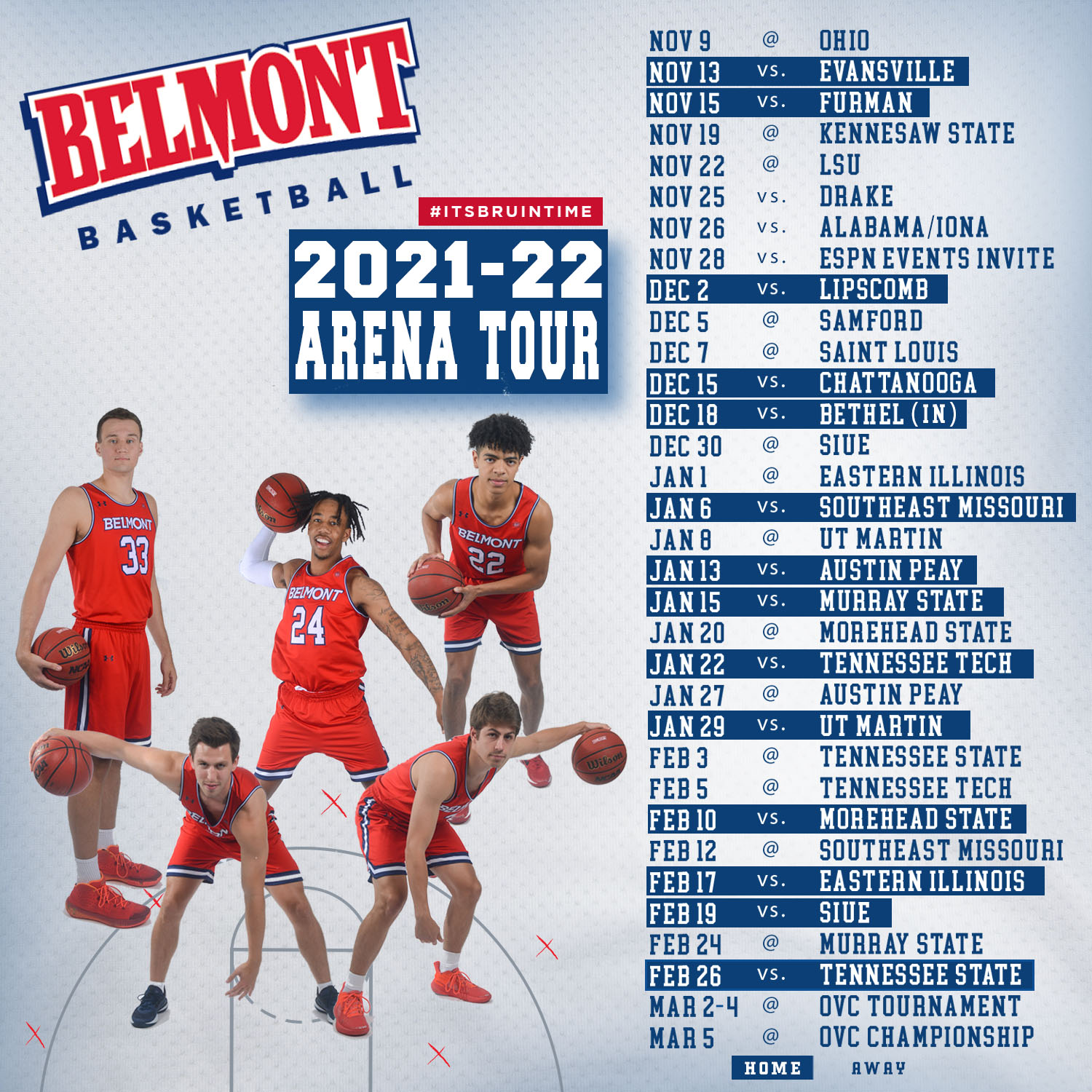 https://sportscredential.com/wp-content/uploads/2021/09/Casey-Alexander-Belmont.jpg
1200
1798
Steven Boero
https://sportscredential.com/wp-content/uploads/2020/12/TSC_Logo_Horizontal_WHITE-copy-for-website.png
Steven Boero
2021-09-07 10:19:55
2021-09-07 10:19:55
Belmont Men's Basketball Releases 2021-22 Season Schedule